The new Acer Windows 10 VR headset, revealed at GDC 2017 (Microsoft)
An Xbox One VR headset is seemingly a permanent fixture on the web rumor mill but now Microsoft has confirmed that mixed reality gaming is coming for the games platform.
Last year, the Redmond software giant announced plans to launch VR headsets capable of mixed reality with the Windows 10 Creators Update. At GDC 2017 this week, that project has been renamed Windows Mixed Reality, and the first development kits will start shipping out this month. An Acer headset was revealed at the San Francisco gaming conference, which is available to developers this month for $299.
But, while the prospect of PC-powered headsets powered by Windows 10 is exciting, it's not as exciting as the news that mixed reality is coming to the Xbox platform. In a blog post announcing the Acer headset, Microsoft's Alex Kipman said:
"We're also excited to share that Windows Mixed Reality experiences will light up on other devices over time, beyond desktop and Microsoft HoloLens. Our plan is to bring mixed reality content to the Xbox One family of devices, including Project Scorpio, in 2018."
Project Scorpio, in case you didn't know, is the code name for the next Xbox One model, capable of true 4K gaming, high-end virtual reality and HDR content. Microsoft is, of course, playing catch up to rival Sony in the VR stakes – the Japanese company's VR headset has already sold around a million units.
Microsoft is keen to use the phrase mixed reality, rather than describing the headset as AR or VR but, in the original Windows 10 headset announcements last year, the VR label was used. It looks as if Microsoft is attempting to differentiate its headsets away from the likes of PSVR, HTC Vive and Oculus Rift – i.e. flat-out VR devices – and instead incorporate elements from its HoloLens project to make it a more rounded virtual experience.
Back to the Acer headset that is kick starting this whole party and the kits that devs can get their hands on include the headset itself, access to Windows 10 Insider preview builds and the software development kit (SDK).
The headset features two high-resolution liquid crystal, 1440 x 1400 displays, a 90 Hz (native) refresh rate, built-in audio out and microphone, single cable with HDMI 2.0 (display) and USB 3.0 (data) for connectivity.

Design and performance
The Acer HMD shares a lot of design language with Sony's PlayStation VR headset, with a single, easily adjustable plastic band resting around the head and a cushion on the forehead piece. Better yet, the display portion of the device that rests on this forehead piece sits on a hinge that flips the device upward for easier visual access to the real world.
Wearing the Acer HMD also feels far lighter than any PC-based VR headset we've tested yet: just 350g (not counting the attached HDMI-meets-USB 2.0 cord). There's no feeling of something hanging off of your face, though that depends upon how tightly you adjust the plastic band.
Better yet, Acer's designed the foam padding that cups your face to practically eliminate light (i.e. reality) bleeding through and ruining your immersion. It's a welcome merging of design ideas between that of Sony and Oculus that we're glad basically every Windows 10 HMD seems to be adopting.
That said, the curvature of the lenses is a little obvious, distorting images at their edges. Granted, this is something that perhaps could be fixed before release later this year.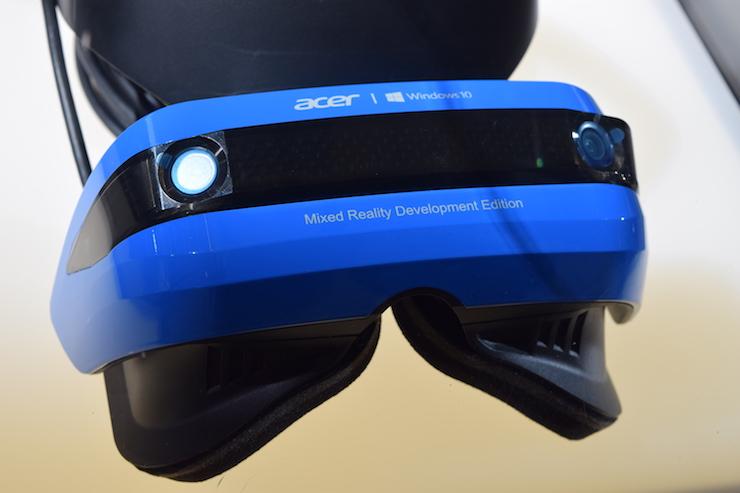 What's most exciting about the Acer HMD's design, and the forthcoming Windows 10 HMDs in general, is that it's one device driving the whole experience. Microsoft and Acer have brought the position tracking cameras into the very HMD in question.
This means that there are no additional sensors or other devices to consider when setting up the Acer HMD. (Just bring your own headphones and plug them into the top of the display.) During setup, the HMD's cameras require you to report your height while placing the device upright in front of your computer screen.
After a few other steps, you're off to the races. Once inside of Microsoft's mixed reality demo, a virtual representation of the Windows 10 operating system, we noticed how sharp the imagery was, and how little stutter there was in response to movement.
Both are testament to the Acer HMD's 90Hz refresh rate and 2,880 x 1,440 effective resolution (1,440 x 1,440 for each lens). That latter point actually sets the Acer HMD above both the Oculus Rift and HTC Vive, which are both at 2,160 x 1,200 effective resolution.
And that point definitely shows when viewing calendar updates, emails and the weather in Windows 10 Holographic. Reading text using either of those competing headsets is, frankly, difficult — not so on the Acer HMD.
197 total views, 1 views today