Caterpillar Mining Highway Truck
797F

Overview
Whether you're hauling copper, coal, gold, iron ore or overburden the Caterpillar Mining Truck 797F provides you with the best in class cost per unit of production. Including the improvements in safety, productivity, serviceability and comfort you will see why the Caterpillar Mining Truck 797F is the industry leader of its class. Combine these features with unmatched dealer support and you will see why more mine sites choose Cat Mining Trucks for their production needs.
Specifications

Nominal Payload Capacity

– 363.0 tonnes

Steer Angle –

40.0 Degrees

Top Speed – Loaded –

67.6 km/h

Gross Power – SAE J1995 –

2983.0 kW

Target Gross Machine Operating Weight (GMW) –

623690.0 kg





Caterpillar Mining Truck 797F Engine
The Cat® C175-20 quad turbocharged and air-to-air after cooled diesel engine has enhanced power management capability for maximum hauling performance in your most demanding mining applications.
Design
The C175-20 is a 20 cylinder, single block, four stroke design that uses long, effective power strokes for optimum efficiency.
Emission Standards
Where applicable, the Cat C175-20 engine is compliant with current U.S. EPA emission standards.
Long Life
High displacement, low rpm rating and conservative power ratings mean more time on the haul roads and less time in the shop.
Cat Common Rail Fuel System
The electronically-controlled system senses operating conditions and regulates fuel delivery for optimum fuel efficiency. This precise and flexible fuel system gives the engine the ability to meet emission regulations without sacrificing performance, reliability or durability.
Cooling System
The flexible core design of the MESABI radiator means easier serviceability along with long life and high durability. The MESABI radiator comes standard on the 797F.
Starter
The tank on the air start system is ground level for easy serviceability.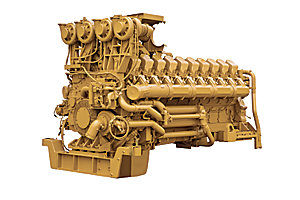 Mechanical Power Train
The Cat mechanical drive power train and power shift transmission provides you unmatched operating efficiency and control on steep grades, in poor underfoot conditions and on haul roads with high rolling resistance.
1 – Transmission
The Cat seven speed, planetary power shift transmission is matched with the C175-20 engine to deliver you constant power over a wide range of operating speeds.
Robust Design – Designed for the higher power of the C175-20 engine, the proven planetary power shift transmission is built tough.
Long Life – A dedicated oil tank and circuit provides cooler, cleaner oil for maximum performance and longer component life.
Electronic Clutch Pressure Control
ECPC provides maximum performance, smooth shifting, long clutch life and a more comfortable ride.
2 – Lock-Up Torque Converter
Combines maximum rimpull and cushioned shifting of torque converter drive with the efficiency and performance of direct drive. The lock-up torque converter engages at approximately 8 km/h (5 mph), delivering more power to the wheels.
3 – Final Drives
Cat final drives work as a system with the planetary power shift transmission to deliver maximum power to the ground. Built to withstand the forces of high torque and impact loads, double reduction final drives provide high torque multiplication to further reduce drive train stress.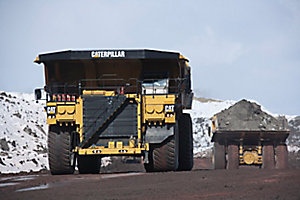 Sustainability Features
The Caterpillar Mining Truck 797F Mining Truck offers continuous rear axle filtration, extended life filters and extended maintenance intervals, which aid in decreasing the amount of waste contributed to our environment.
Advanced Surface Technology (AST)
Advanced Surface Technology (AST) is a replacement for hard chrome coatings on some steel parts, including suspension and hoist cylinder rods. This technology improves wear resistance and reduces repair time. Chrome has been eliminated to reduce environmental impact.
Fuel Efficiency
The engine provides additional retarding by running against compression on downhill hauls. During retarding applications the engine ECM does not inject fuel into the cylinders for exceptional fuel economy.
Read More About Cat 797F