Full Body Mode is now available
Three Scanning Modes : Head, Object, and Full Body scanning mode are available in the updated version of XYZscan Handy. Maximum scan volume reaches 39.3(D) x 39.3(W) x 79.7 (H) inches. Large objects can also be scanned in Full Body mode.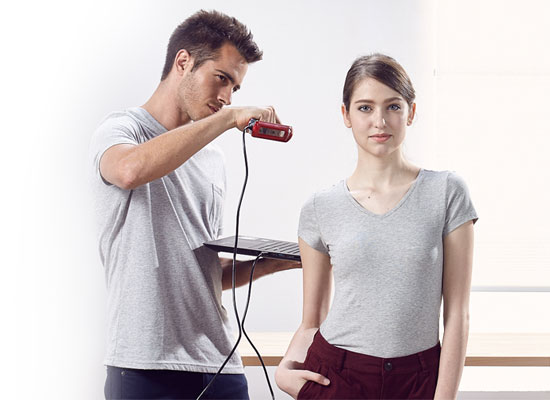 Real Sense, Real Powerful
Powered by Intel® RealSense™ module, the XYZprinting 3D Scanner Pro is fast in both scanning ability and processing speed. It allows for a 3.93 – 27.55 inch operating range with the wide scanning distance of 11.81 – 27.55 inch, and the quality resolution of 640 x 480 at 30FPS.
Scan and Print
Turn your physical world into digital replicas, where you can modify them, and then reproduce them with 3D printing. Need to replace that broken part that you can't find in stores? Want to make a gift for someone but don't know how to 3D model it? Simply scan the desired objects to recreate them in different sizes, or change it completely to create new ones!
Maximum Scan Volume (WxDXH)
Minimum Scan Volume (WxDXH)
XYZScan Handy/.stl, .obj, .ply
Supported OS: Windows 8.1 and above (64-bit)
Minimum Hardware Requirement
CPU: 4th Generation Intel® Core™ i5 Processor and above RAM: 4G RAM or more
GPU: NVIDIA GeForce GTX 750 ti (or above) with 2G VRAM (Desktop) NVIDIA GeForce GTX 840m (or above) with 2G VRAM (Laptop) Note: Devices with Intel® RealSense™ Scan module built-in are not supported. Windows Surface Tablets are not supported.
Supported OS: Mac OS X 10.10, 10.11, 10.12
Minimum System Requirements
CPU: 4th Generation Intel® Core™ i5 Processor and above RAM: 4G RAM or more GPU: Intel HD Graphics 4000 VRAM: 2G RAM or more Supported Devices: MacBook Pro (Early 2013), iMac (Early 2013) and newer Note: MacBook, MacBook Air, or Mac Mini are not supported.