Introducing the I‑PACE Concept, a preview of the first all‑electric Jaguar car. Previewing the production version arriving in the second half of 2018, the I‑PACE Concept is the ultimate electric performance SUV.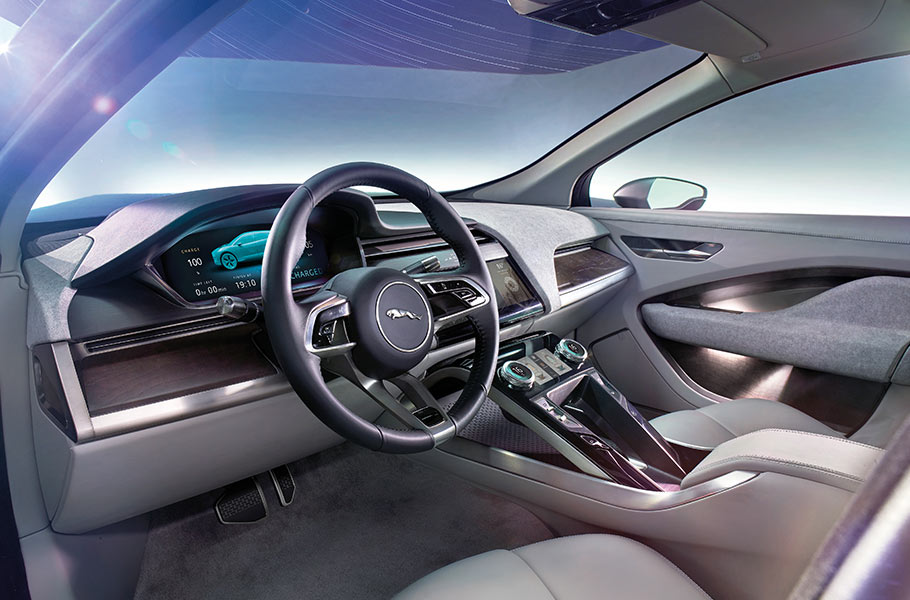 The I‑PACE Concept is designed to bring thrilling Jaguar performance to electric vehicles. The I-PACE Concept previews a future production Jaguar model that will be available from the second half of 2018, which will be our first electric vehicle and will deliver 516lb-ft of instant torque, 400 HP and 0‑60 mph3 in around 4 seconds.* Next‑generation technology and future‑facing design combine to deliver a zero‑vehicle‑emissions driving experience that remains unmistakably Jaguar.
SPACIOUS INTERIOR
Inside, the I-PACE Concept is as spacious as it is sporty. Without an internal combustion engine to accommodate, the interior is exceptionally spacious with five full seats and luxurious rear passenger legroom. Everyone experiences the unmistakable flair for Jaguar design and impeccable craftsmanship.
The I‑PACE Concept is more than a concept. It's a preview of our first production battery‑powered car, launching our commitment to create electric vehicles that are also truly exciting driver's cars. As well as investing in being at the cutting edge of zero‑vehicle‑emissions technology, we're helping drivers understand more about electric cars.
322 total views, 10 views today