Scania V8 Drive your business
The Scania is at the forefront of technology when it comes to high-output V8 engines. It combines amazing driver experience with outstanding performance and efficiency, moving your business forward.
Available
520HP – Euro 6
580 HP – Euro 6
650 HP – Euro 6
730 HP – Euro 6
520 hp , 580 hp , 650 hp , 730 hp
2700 Nm , 3000 Nm , 3300 Nm , 3500 Nm
New generation Scania R- and S-series
DYNAMIC BY DESIGN
It makes the strongest of statements. It speaks of decades of V8 innovation, that sets new standards of usability, comfort and bold styling. Redefining a legend in style.
THE BALANCE OF POWER
The V8 is the high-performance benchmark. It's famous for class-leading power and endless torque. But this performance is also coupled with rock-solid reliability, longevity and operating economy – and that makes good business sense.
MAKE IT YOUR OWN
With a wealth of choices and an array of modular configurations, the possibilities are endless. Make it a good experience. Make it a V8.
Scania V8 Specification
⇒ V8 CAB
The V8 truck range makes a bold and confident statement on the road. This top-of-the-range V8 cab can be equipped to the highest standards for operators who demand the most practical and prestigious vehicle.

⇒ V8 Engine
With the introduction of the new 650 hp engine, Scania offers the broadest range on the market. Choose the power train that fits your needs perfectly.
​Scania's comprehensive gearbox range includes many that can be adapted to all types of transport. For improved variability, our 12- and 12+2-speed gearboxes can be fitted with fully integrated Scania Optimistic and Retarder.
⇒ V8 Axle

configuration

and chassis height
Front, rear, fixed and steered tag axles – Scania can match the requirements of any application. The new R-series can be teamed with a wide range of 2-axle and 3-axle chassis with different heights.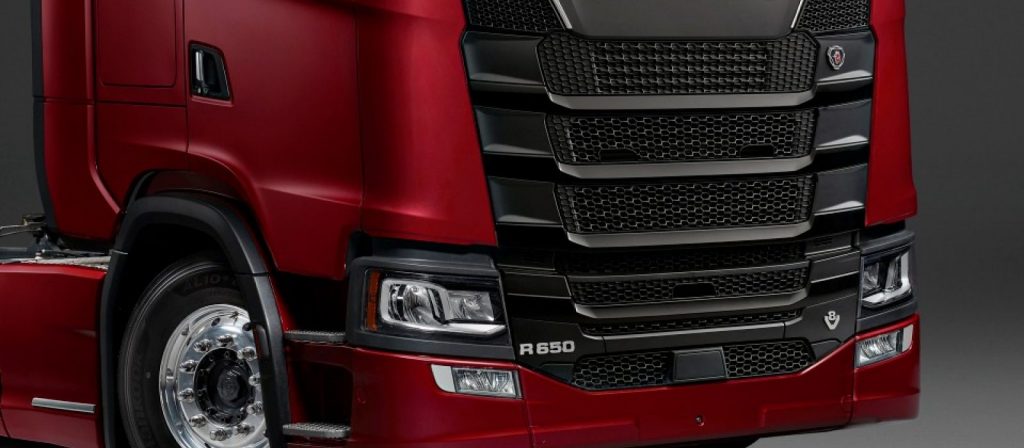 Read More About Scania V8 Truck
271 total views, 2 views today